The Bayonets Release "Sucker for Love" TODAY!
Written by Brian on Feb 13 2013 at 06:27 PM
"Sucker for Love" is out TODAY, Valentine's Day!

Hello to my friends far and wide! Valentine's Day is upon us~ So.. if you haven't already heard, Oliver Leiber and I have a brand new band, The Bayonets
and we are launching the first of 5 singles. After 6 months of fun and hard work with a revolving cast of characters we're ready to play it for you! Please stop by the store page and have a look, have a listen.. kick back and share with your friends if you think they'd dig it too.

The Bayonets… sharp and to the point.
Best,
Brian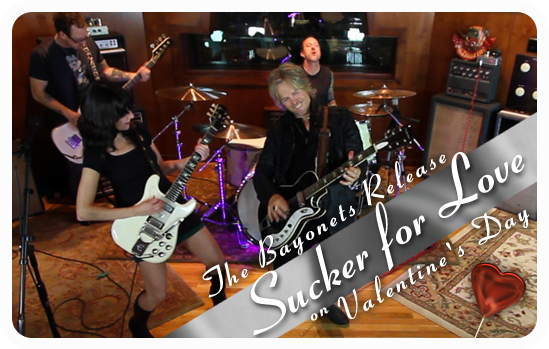 Sucker for Love is available NOW as a single or bundled with printed Ltd. Ed. 8x10 photo of The Bayonets and merchandise. First 100 Ltd. Ed. 8x10 photos will be autographed by Brian Ray and Oliver Leiber. Bundles #2, 3, and 4 will include a special Pewter Guitar Pick Charm with Dog Paw on one side and a Magnet on the other.
While The Bayonets music will last forever, the merchandise bundles will not! Get them while you can on the Store Page!
The Bayonets will donate $1 for each bundle sold to the Pet Adoption Fund.
Contest
Fans that purchase all 5 singles will be automatically entered to win some awesome prizes. The fifth single will be made free to anyone who bought any of the four previous bundles.
Watch the lyric video for Sucker for Love below!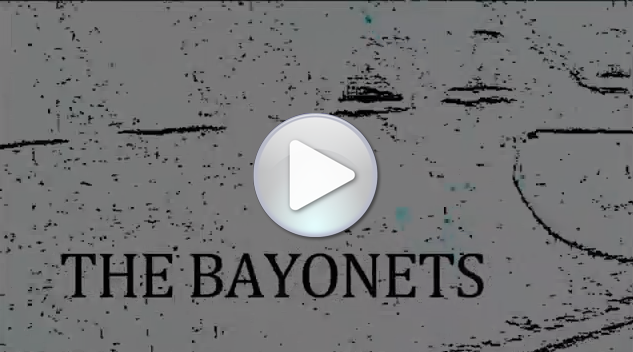 Whooray Records is moving from PO Box 69394 to a new address in Santa Monica. The new address will be revealed on the return address of your shipment. Thank you for all of your support at my previous address.
The Bayonets will be releasing one single at a time, every seven weeks. Stay updated by checking Brian Ray's Website and mark these release dates in your calendar!
"Sucker for Love" - February 14, TODAY!
Single #2 - April 4
Single #3 - May 23
Single #4 & 5 - July 4
If you Like this, Share it!
Join in with the conversation... leave a comment!
You can post as a guest or login using your favourite social network, including Twitter, Facebook and more. You can also share your comment and a link to this page with your friends by clicking on the share button below.
blog comments powered by

Disqus